THE NKA FOUNDATION AND THE MASTERPLAN
In the next couple of years different international workshop-teams will travel to Sang to build a part of the vocational school. Although our MUD cafeteria workshop was initially planned for the secondary school in Abetenim, due to certain political difficulties with the Regional Chief in Abetenim we have been forced to transfer our workshop to Sang. The design proposals for the various school functions are a direct result of the outcome of the Fourth Earth Architecture competition (4EA). Several of the teams who participated in the 4EA competition – and who were shortlisted by the jury –  have been invited to plan a workshop (either in Abetenim or in Sang) within the next three years to realize their design. The organisation of these workshops is planned in accordance with the NKA foundation. The NKA foundation will assist project leaders with valuable information based upon the experience of organizing similar workshops over the past few years. The NKA is strongly embedded within the local community in Sang and as such plays an essential role in creating acceptance along the local community for the workshops. Furthermore the NKA provides the local infrastructure for the workshops like facilitating housing for the volunteers, transportation of materials, contacts with the local workforce and so on.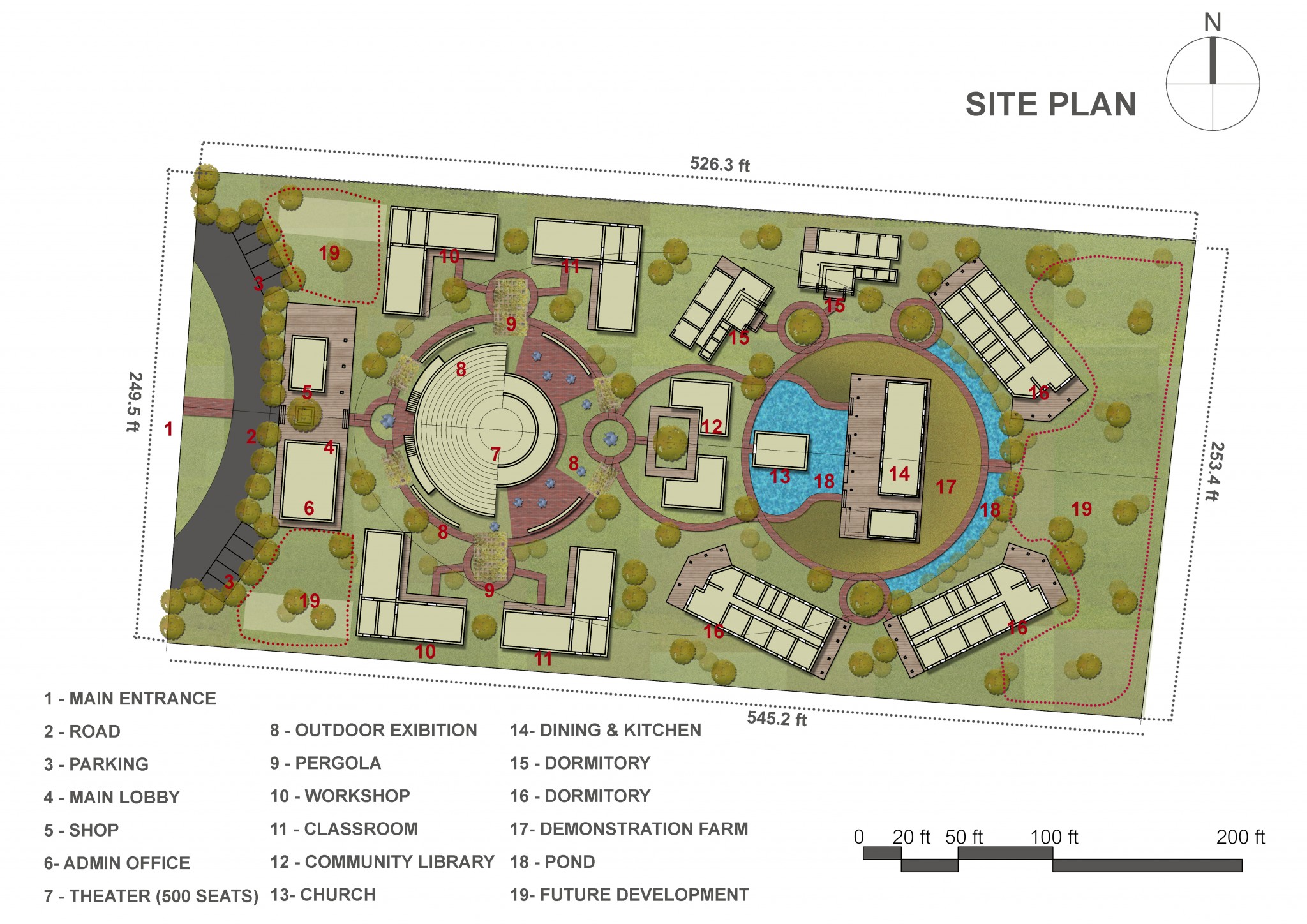 The masterplan for the vocational school in Sang
WORKING TOGETHER WITH THE COMMUNITY
The construction of the vocational school can be regarded as a form of community architecture. By this we mean that the design proposals are built with and for the community. The workshop principle therefore should be understood as a bilateral learning environment where know-how is exchanged between locals and students within the scope of a realistic building project. As the workshops in Sang will bring together project-teams from all over the world, a cross-fertilization of skills and knowledge will add to the dynamic of the workshops. As the local community has built with mud for over centuries now, it should be evident that the workshops cannot be considered as a 'classical aid project' where the developed world shows the developing world how things are done; hence an important aspect of the workshop is the empowerment of the local workforce.

 TIMEFRAME
The official start of the Workshop  in Sang will be the 9th of July. From that day on volunteers are welcome to join us for any given period untill the 30th of September. Shown below is a timeframe with the upcoming tasks and deadlines in the planning process, starting with the preparatory tasks that are already underway to the final construction phase of the cafeteria in Sang.