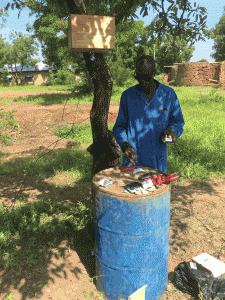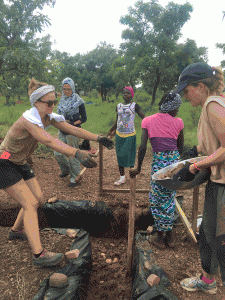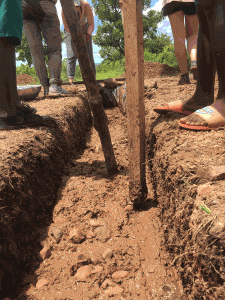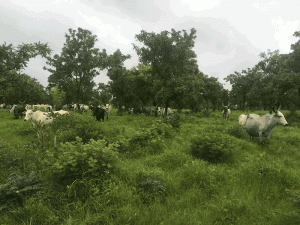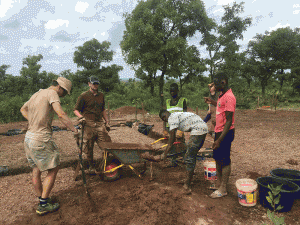 With some delay… Here our first weekly journal!
Week 1
Our first week of construction is behind us and we are happy we finally have some blisters on our hands! That may sounds strange but after such a long time of preparation it is a good feeling. The week has been quite successful and we are happy with our progress although we have not been able to fully complete the foundation for the first modular part of the building.
But taking into consideration it has been our first week as foreman and forewoman? of a construction site, we believe we handled ourselves pretty okay. Moreover, the fact that we are building in a remote area does not make the job easier as most materials have to come from Tamale which is almost a one and a half hours drive away. So planning will be very important these weeks. 
The work has been hard but we are enjoying it for now. Our own volunteers are great and very independent which makes things a lot easier for us. We have also hired some locals to help us out and these guys do not appear to get tired at all. We will introduce our team next week. Besides our volunteers and our paid employees we are getting a lot of spontaneous help from the local community. Most of them are children however and the construction site often looks more like the courtyard of a huge kindergarten! 
Below you will find a small summary of what we have done this week:
Monday the 10th of July:
We decided to start our work quite early because in the morning the temperatures are still bearable. In the morning Pastor (our local contact guy (introduction will follow soon) ) comes to pick us up with our nice leopard motorcycle and he takes us to the site. After showing the site to our team and saying hello to all the cows around us, our first order of business was to find the exact position for the cafeteria so we could start to measure the exact the outlines for the foundation. But before this we first had to clean the site and remove all the gras and bushes. Soon after a lot of curious kids joined us and helped to collect stones for the foundation. We have been, and still are!, deeply impressed by their perseverance and their strength! 
At the site there were still the remaining of two buildings from former workshops (several years ago). The roofs were ruined by the termites and the walls were almost cracked down. Because these buildings were made without the use of cement we decided to recycle the buildings and reuse the earth of the walls to produce the gravel for our concrete mix. After a hard day of work we went back to our guesthouse whilst picking up two additional members of our team, Hannah and Olivia. Welcome!
Tuesday
As our sieve arrived Tuesday morning we immediately started sieving the earth we took from the remains as to separate the stones from the fine earth/sand. The rest of our team continued to collect more stones, and more stones, and more stones… In the meantime we started with measuring the outlines of our building which can be quite the ordeal. But luckily we already discussed this at home Vienna so we knew at least how to do it. after two three hours of measuring ( this is definitely more difficult as one might think) we had the angles and outlines worked out and the digging of the trenches for the foundation could start. In the afternoon a lot of people from the town joined us and helped us digging so we were suddenly very fast!
Wednesday
Collecting stones, again! As some of us were busy finishing the excavation-work we recognized that the site was more slanted than we had initially thought, so we had to dig the foundation on one side even deeper 🙁 . Mohammed, ( nickname Diego Costa) a young boy from town, was a great help today so we offered him to join our team and pay him for his efforts. We also had a visit from two guys that sell eco-bricks in Tamale. These blocks are made from cement and earth and have a nice reddish color. They are dried and not fired so that saves quite a lot of energy in the production process. They are furthermore interlocking which means we do not have to use mortar to lay them. Although we initially not planned to reinforce the foundation we reconsidered this again and decided to order some reinforcements rods after all. Beter safe than sorry! 
Thursday
Finally we were able to start with mixing the concrete for our foundation. Because concrete mixing machines are very expansive in this region  (15.000 Cedi= 3000€/ in Austria around 200€) we had to find another solution. We hoped that a drilling machine and a concrete drilling bit could maybe do the trick but the drill-bit we had was way to heavy for our machine. So we had no other option to to mix the concrete the old school way, by hand. Luckily there were more locals dropping by to help us mixing the concrete because that is really hard work doing it manually. For the foundation we used 1Part cement, 1P sand, 1P of the recycled fine earth and 2P of the recycled bigger parts/stones from the earth. After each layer we added larger stones to reduce the amount of concrete.
Friday
More concrete mixing… Our goal was to finish the foundation of our first module before the weekend but unfortunately it took longer than expected. So we will have to finish it next week. We will now try to catch our breath over the weekend as it has been a tough first week. We are clearly not used to manual labour any more! The weekend gives us some time to catch up on some of the paperwork we have to do ( expenses etc.) and also to organise certain things for the upcoming week.
Well we hope that many people are following what we are doing and the next update should follow on Sunday evening!
Greetings to all back home!