Dear friends, Akwaaba!

Our first week here has already passed by so quick. Our community coordinators Pastor, Adam and Kofi are really helpful and the whole town is very welcoming!
We managed to organize great accommodations for our participants with western standards. They also have the opportunity to live with local families in their traditional earth building compounds where you will be deprived of any kind of taken-for-granted luxury. The people from the community are cooking for us and we have to say we are pleasantly surprised about the quality and variety. The population of Sang is around 10.000 people, although it seems like a very small town because it barely has no infrastructure at all. Accept some buildings aside the main road (that connects Yendi and Tamale) and our guest house, most of the buildings are traditional earth-building-compounds. There are only some very small shops where you can buy the most necessary things.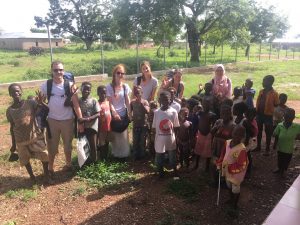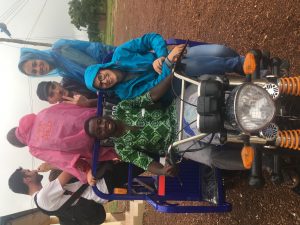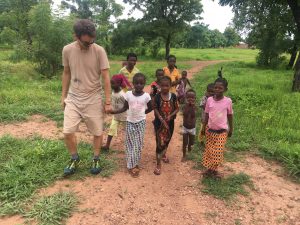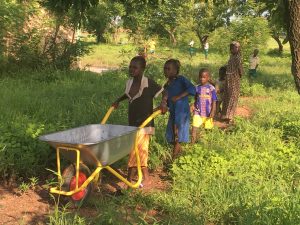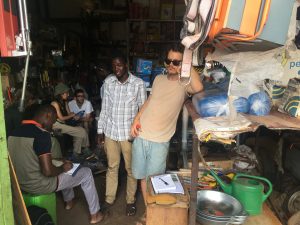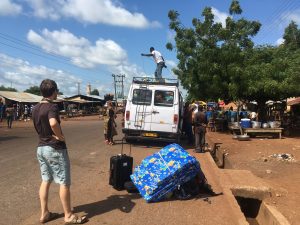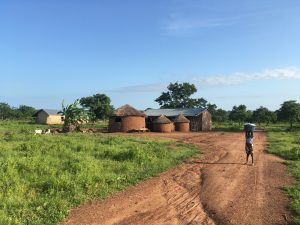 The whole town is full of kids, who always wave at us, shouting 'salaminga' (white person) and accompany us everywhere. They even help us collecting stones at our building site so at least the younger part of the community is already involved in our project.
Our first week here was foremost dominated by organizing the tools and materials that we need to start our first week of construction. This included lots of negotiation and lots of visits to various suppliers of building materials. We have been on VERY long shopping trips in Tamale, where we have bought most of the tools. We are now the proud owners of a motor King, which we bought together with the Greek team. It's the blue vehicle you can see on one of the pictures above.

We are very happy with our construction site! It's at the end of the town, next to an already existing primary school. The view from our cafeteria (for the upcoming vocational school) will be fantastic. Because of the site orientation we can't align it perfectly to the sun but concerning the prevailing wind direction it will assure a continuous ventilation of the building. The surrounding trees will moreover provide some additional shadow for the morning and evening sun.

But the sun does not always shine! Especially since the rainy season has just started. So we had our first heavy tropical rainstorm experience. The noise it made was incredible. Especially on the metal roofs the sound is deafening. Impossible to not wake up!. So regarding the pedestal of our building we already decided to adjust our design a little bit, because the rain storms here are more intense as expected.

Well Monday will be our d-day and our team is arriving these days. We will first start with the excavation work and clean the site from all the grass and plants! After almost one year of planning and preparing we cant wait to actually start with the construction work!
Best wishes to all, Maadwo!
Your MUDcafeteria Team